I have good news. I am adding another show. I will be competing at the
WNSO Pro show in Miami
on November 3rd to 5th in Miami, FLA. I decided I needed a warmup to Nationals.
Here are some more pics.
October 15, 2006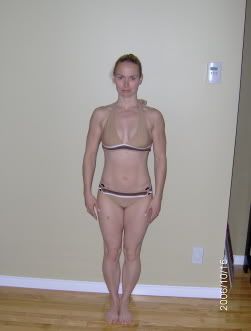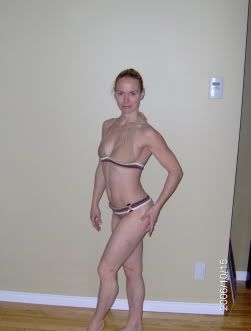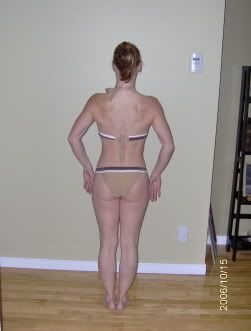 Now I am full into my cardio. I am doing 45 minutes in the morning, and usually 45 minutes at night if I can get to the gym. I can almost do my routine full out as I just missing one move at the end. It will come next practice though I can feel it.
For those mom's out there, I have been breastfeeding since May 1, and recently stopped as of yesterday. So these pics I was still breastfeeding. Some are wondering how you can compete and breastfeed, and well I am sure you can, but I was leary of trying this with my little guy. I did not want to cut my calories too much at his expense, and with me travelling for 5 days it would be difficult. Zachary is almost 6 months already, so by the World Health Organization standards I have put in the minimum. I am a little sad to have stopped, but I am enjoying the freedom that comes with being able to feed Zach with a bottle.
I am still hitting the weights hard, and heavy as I need my muscle back and I am sure it will come. I am just really excited to be getting out of the house, and travelling. It has been a year and a half since I have seen my fitness body, and boy, will I be pleased to see its return.
More pics this weekend.
A.