Hopefully I am going to make this show. Here are some updated photos of today.
October 20, 2006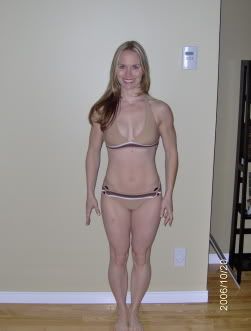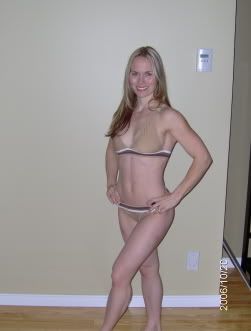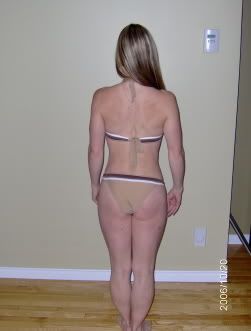 I have 2 weeks to get everything together, well, the body mainly . Routine is great. I feel really strong. Cardio....let's see.....if you have a plan and it is working that is what I am used to doing in order to get ready for a show. I have heard and read much about HIIT. Using periods of hard work say, 20 sec (all out to die for sprint on the treadmill) intervaled with 40 seconds of recovery work. Although I do a type of training similar to this, mainly interval training but not of the same ratios, in order to prepare for the routine, I am leary to let go of my old training practices - such as cardio, in order to prepare for a show. If it works for me, then why change it right? I have to admit that I am have been doing less cardio now, than I ever have before. Mainly I just don't have the time.
My little guy sleeps but not the whole night. He is constantly learning new things, and well, wants to get up to 'practice'. When he wakes, I am usually awake after that. Luckily my gym is 24 hours, and going at 3:30am does not seem that foreign to me anymore.
From the pictures I really need to work on tightening up the backend. Isn't it always this way with the women. The abs are starting to come in nicely, but my skin really has not retracted as quickly as I would have liked from the pregnancy. Luckily no stretch marks on my belly but the skin...there is just extra. I am sure time will fix this.
A.